Isaac Julien in conversation with Mike Stubbs – Thu 27 Sep 2018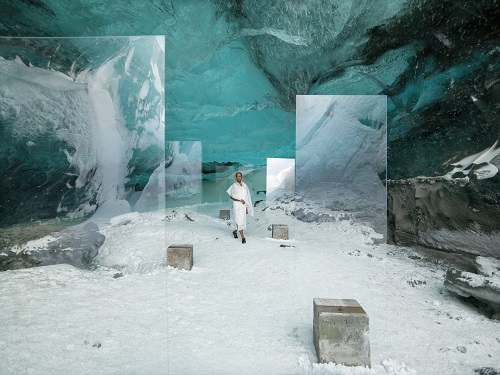 Isaac Julien's work Stones Against Diamonds in the York Art Gallery exhibition Strata – Rock – Dust – Stars features the breathtaking scenery of glistening ice caves in the remote Vatnajökull region of South East Iceland, Austurland. The artwork draws inspiration from a letter written by Brazilian architect Bo Bardi's letter, where she praises the beauty of semi-precious gems over preferred precious stones, such as diamonds. Creation of this ambitious work necessitated a five-day shoot in sub-zero temperatures and involved a fifty-strong crew.
Join internationally-acclaimed, Turner Prize nominated filmmaker and installation artist Isaac Julien CBE RA in discussion with Mike Stubbs, exhibition curator and Director of FACT, Liverpool (Foundation for Art and Creative Technology) to hear about the inspiration and challenges behind this extraordinary work.
Strata – Rock – Dust – Stars is curated by Mike Stubbs, Director of FACT Liverpool, in partnership with York Museums Trust and York Mediale. Featuring moving image, new media and interactive artwork, the exhibition explores geological strata through a poetic layering of human curiosity, exploration and reflections on the universe.
Event details
Date
Thursday 27 September 2018, 1:00 pm - 3:00 pm

Venue
Yorkshire Museum,
Museum Gardens
York
North Yorkshire
YO1 7FR