Fox Lane Books Presents: An Evening With Dan Jones by Fox Lane Books Follow – Wed 16 Oct 2019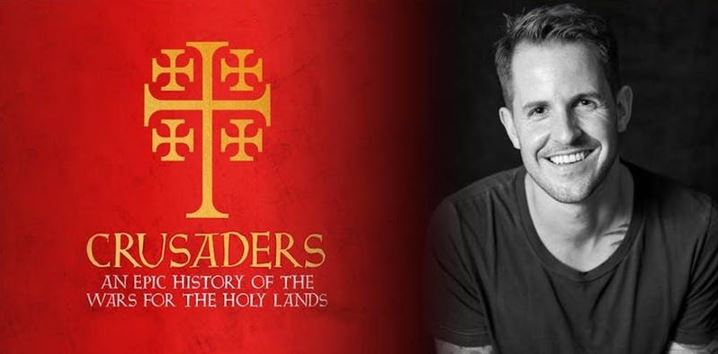 Fox Lane Books, in association with York Literature Festival, is proud to present an evening with Dan Jones, who will be discussing his new book, Crusaders.
The Sunday Times best-selling author of The Templars tells the story of the Crusades, a thousand-year-old conflict which continues to shape the modern world, and the people who fought in them.
Dan Jones, best-selling chronicler of the Middle Ages, turns his attention to the history of the Crusades – the sequence of religious wars fought between the late eleventh and late medieval periods, in which armies from European Christian states attempted to wrest the Holy Land from Islamic rule, and which have left an enduring imprint on relations between the Muslim world and the West.
Crusaders presents a distinctive perspective on a medieval conflict between Christianity and Islam whose echoes still resonate today. Rather than simply charting the events of the Crusades, Jones offers a 'tableau history' based on a chronological sequence of episodes featuring people who were involved in them. The 'crusaders' of the book's title include women and men, Christians of the eastern and western churches, Sunni and Shi'a Muslims, Arabs, Jews, Turks, Egyptians, Berbers and Mongols – and even a band of Vikings.
With an epilogue charting how this thousand-year-old conflict has shaped the modern world right up to 2019, Dan Jones brings his masterful storytelling and a new perspective to this bloody period in the world's history.
Dan Jones is a master of popular narrative history, with the priceless ability to write page-turning narrative history underpinned by authoritative scholarship. Never before has the era of the Crusades been depicted in such bright and striking colours or their story told with such gusto.
About the Author
Dan Jones is the bestselling author of The Plantagenets, The Hollow Crown, Magna Carta and The Templars. The Plantagenets was adapted into a four-part Channel 5 television series and The Templars has sold more than 150,000 copies in Head of Zeus' English language editions, and rights in twelve languages. In 2018, he co-authored the best-selling book The Colour of Time with Marina Amaral. Dan is a broadcaster, award-winning journalist and pioneer of the resurgence of interest in medieval history. He was educated at Pembroke College, Cambridge, where he was tutored by David Starkey. He lives in London.
Tickets are £7.50 advance (plus Eventbrite fees) – book here now
or £10 on the door.
https://www.foxlanebooks.co.uk/
Event details
Date
Wednesday 16 October 2019, 12:00 am

Venue
Tempest Anderson Hall, Yorkshire Museum,
Yorkshire Museum, Museum Gardens,
York
YO1 7FR
Map Unavailable