CANCELLED – Portrait Sculpture Class by Keziah Burt
CANCELLED – Portrait Sculpture Class by Keziah Burt – Wed 11 Sep 2019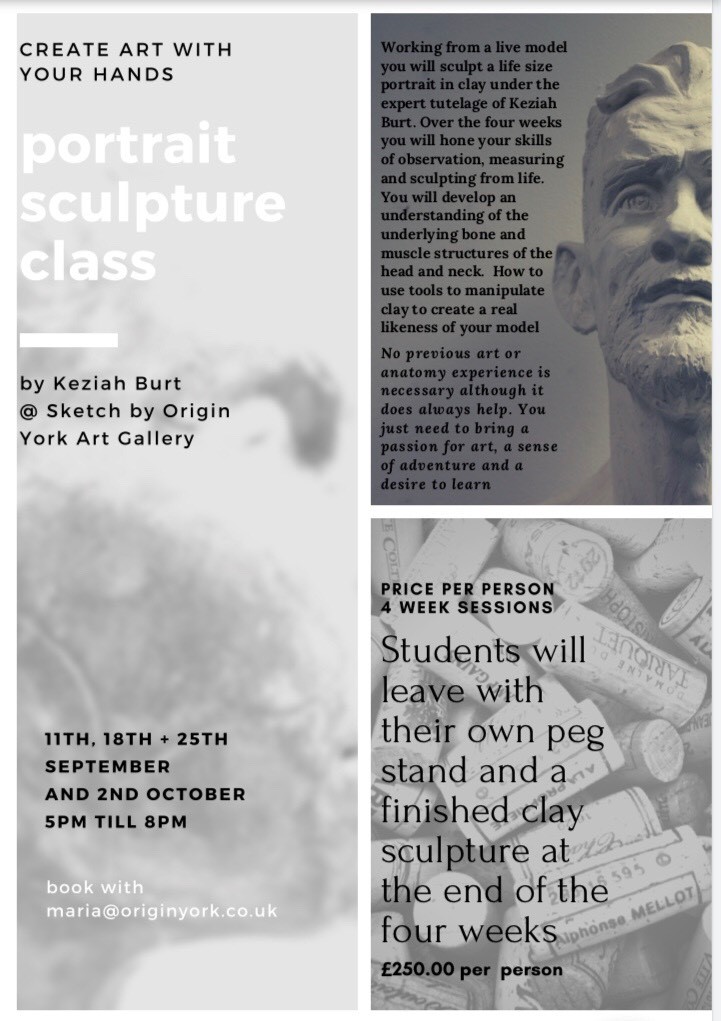 @ Sketch by Origin, York Art Gallery
Working from a life model you will sculpt a life size portrait under the expert tutelage of Keziah Burt. Over the four weeks you will hone your skills of observation, measuring and sculpting from life.
You will develop an understanding of the underlying bone and muscle structures of the head and neck. How to use tools to manipulate clay to create a real likeness of your model.
No previous art of anatomy experience is necessary
Price per person, 4 week sessions 
Students will leave with their own peg stand and a finished clay sculpture at the end of the four weeks  
£250.00 per person
11th, 18th, 25th September and 2nd October
5pm till 8pm
Book with maria@originyork.co.uk
Event details
Dates
Wednesday 11 September 2019–Wednesday 2 October 2019, 5:00 am - 8:00 am

Venue
York Art Gallery,
Exhibition Square
York
North Yorkshire
YO1 7EW
Powered by Events Manager
Keep in Touch
Enter your email address to sign up to the York Museums Trust newsletter.