Pictures of the Floating World: Displaying York Art Gallery's Japanese Prints
This is the first in a short series of blog posts about our current display at York Art Gallery – 'Pictures of the Floating World: Japanese Ukiyo-e Prints'. In these posts, I highlight some of the discoveries that I made during the research, and some revelations that have surfaced since putting the prints on public display.
The display opened in May 2021 and features woodblock prints by many of the most important and prolific Japanese ukiyo-e artists alongside paintings and illustrations by British artists who they inspired. Ukiyo-e prints described life in and around the urban centres of Japan during the Edo period (1603 – 1868): a time of peace, during which the economy prospered, and arts and culture flourished. It was also a time of control, when Japan was isolated from the rest of the world and society was rigidly managed by the Tokugawa shogunate (military government). Ukiyo-e means 'pictures of the floating world', referring to the transitory, or temporary, nature of life. Aware of life's brevity, people found joy in earthly pleasures, entertainments, and in the beauty of nature. Commonly depicted themes include portraits of famous kabuki (dance-drama) actors and courtesans, folk tales, nature and landscape.
When Japan's isolationist policy came to an end in the 1850s, trade became possible with Europe and ukiyo-e enjoyed a surge in popularity there. Japanese artists started to employ Western techniques, such as shading and perspective, while European artists were intrigued by the former's use of line, colour and asymmetrical composition. These influences gave rise to Japonisme and movements such as Art Nouveau and Aestheticism, a proponent of which included York's own Albert Joseph Moore (1841-93).
The display has been extremely popular, with many visitors remarking that they had no idea such a marvellous collection existed in York. One of the many wonderful outcomes of this project has been to highlight this little-known corner of the collection, whilst showing well-loved artworks (such as paintings by Albert Moore, George Frederic Watts and Philip Wilson Steer) in a different light.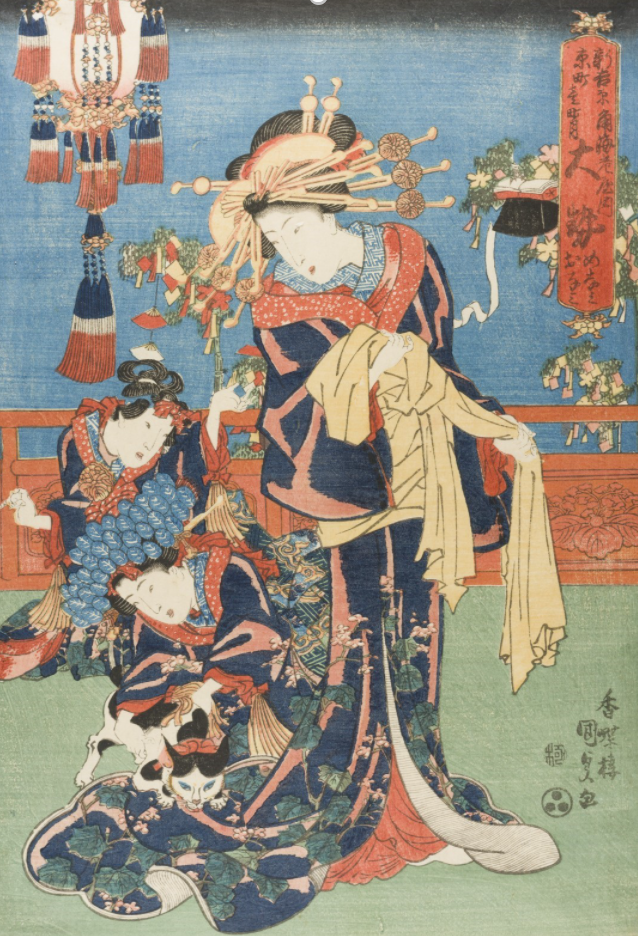 There are around 150 ukiyo-e prints in the collection in total, the vast majority of which were given to York Art Gallery in 1954 by John Bowes Morrell (1873-1963). They feature most of the main themes found in ukiyo-e, which offer a unique insight into life in Edo period Japan. At the time of their acquisition, the prints were assessed by an expert in Far Eastern art at the Victoria & Albert Museum, who suggested attributions for most of the works, but there had been no further research since then. Ever since cataloguing them in 2006, it has been top of my list to research and display these prints, so I was thrilled to get the opportunity to make a start on this at the end of 2020. Apart from the stunning landscape prints by Hiroshige and others, and a small display in 2006, the majority of these prints have never been on display in the gallery.
The most important thing for us as curators is to make the art in our care accessible to our visitors. Sometimes, we present works with scant information as we feel the most important thing is to get them out and seen. Occasionally it is only when we present works to the public, that errors are discovered, or new information comes to light.
Recently I was contacted by a visitor who recognised one of the prints which we have displayed as by an unknown artist: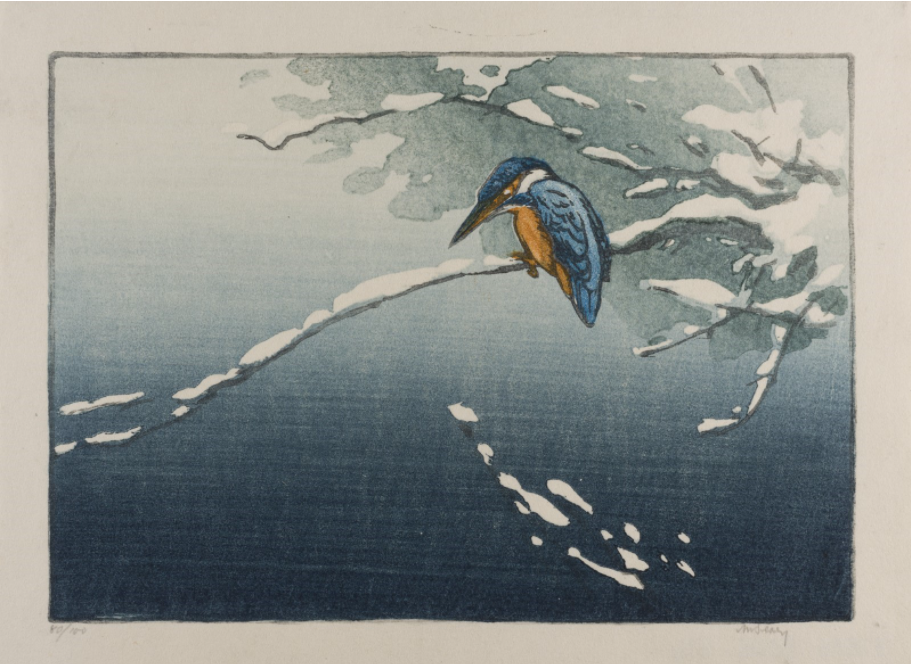 Allen William Seaby Kingfisher About 1911 © Estate of the Artist
She correctly identified this delightful print as a work by the British artist Allen William Seaby (1867-1953). Seaby was a wildlife artist who, among other achievements, illustrated numerous books about British birds, and he worked using traditional Japanese printmaking techniques. Born in the UK not long after the re-opening of Japan roughly a decade earlier, ukiyo-e had already made a significant impact on British artists by the time Seaby began studying at Reading School of Art. It was there that he developed a love for Japanese woodblock printing, which continued throughout his career.
This print sits perfectly in the display and the influence of ukiyo-e is evident in the simple composition and in particular the gradation of colour in the background. It succinctly demonstrates how ukiyo-e influenced so much of the book illustrations that many of us grew up surrounded by.
You can see this print at York Art Gallery until 8th May 2022, after which date you will be able to enjoy Pictures of the Floating World afresh, with a new cohort of ukiyo-e to see (from Wednesday 11th May).