Olivia King: Artist in Residence at York Art Gallery

This week exciting things have been happening in the project gallery. I have been working hard the last few weeks stretching frames with my own bespoke patterns to go on the Project Gallery wall. Each one consists of a singular image of a piece of my work, or stems from a place in the gallery. See if you can recognise the inspiration behind each piece! What do you think this one is?  (hint the original photo which inspired the piece was taken somewhere in the gallery….)

As I am in my last month of residency, it's now time to display all the frames.  So it has been a busy day today, curating and editing work to see which pieces work together. Below is a configuration of the pieces on the floor before they go up on the wall.
This process took time as we had to think about the measurement and the spacing between each piece so nothing would look out of place.
Tools of the trade-with all the pieces and the materials set it was ready to hang…
Despite having prearranged the layout, hanging the pieces on the wall did change as I reflected on the process as it progressed.
The pieces and shapes may look randomly placed, however, each one has been carefully hung against one another so that they all flow as one…
As shown below, I have hung the pieces with pink tones to the left hand side of the wall, and grouped the yellow tones towards the middle and the blue to the right. This prevented pieces clashing against one another.

---
---
Week 6
5, 4, 3, 2, 1 …..Countdown to running my first Saturday participatory session….Blastoff!
This weekend we held our first Saturday participatory session here in the Project Gallery. Thought I would let you all know how it went-might even inspire you to come and have a go yourself if you haven't already?!
Firstly a BIG thank you to all that joined in. I hope you had fun exploring a new printing technique, the joys of low tech and the immediacy of printing from acetate.
We had so many beautiful and diverse pieces made exploring your #personalmasterpiece. Some visitors wanted to make their own patterns from scratch, exploring around the top floor galleries for inspiration, with cameras in hand ready to snap shots of works that resonated with them. Visitors were not on their own, however-as we were waiting in the wings to help transform their inspiration from photographs to print, creating personalised kaleidoscopic patterns from their source photography. Can you guess which piece of art work this photo was taken from?
What was inspiring for me was the variety of approaches to making art and what sparked individuals attention. There are no rules dictating what your subject matter has to be-it's YOUR #personalmasterpiece after all! One visitor was clearly feeling festive and focused not on displayed artwork, but the decorations in reception-why not take an up close image of the Christmas tree!?
Maybe you have something in mind already that you want to make a masterpiece of? Let me introduce you to Button the owl-he was a favourite of one participant who airdropped this photo to me, which we were able to make into a print from her own photograph there and then!
Maybe you have something in mind already that you want to make a masterpiece of? Let me introduce you to Button the owl-he was a favourite of one participant who airdropped this photo to me, which we were able to make into a print from her own photograph there and then!
If you didn't get chance to pop along this weekend don't worry! We will be running further sessions during the next two Saturdays (14th and 21st December)
All of this goes to show that you can make a masterpiece out of almost anything whether it be an interior, a landscape, a portrait or your own personal masterpiece. And if you don't want to join in printing that's okay, feel free to share with us all your input on what you think makes a masterpiece by leaving comments on our chalk board or on our post it notes!
---
---
Week 5
Displaying and Curating……
Hello everyone! Last week was a busy week in the project gallery….
If you have visited my studio recently you may have noticed how crowded it's getting with my work – I am running out of space to display it (although I do love the cascade of fabric spilling form the walls onto the floor!)
Your feedback has been great and has made me think of the different ways it can be displayed, so you all can enjoy the work individually and see the visual journey and development of my work. After studying the Bouts painting further and taking all of your comments on board, I have decided to stretch my prints/paintings onto frames. However, these frames, like my practice itself, are not necessarily conventional. The rich interior of Bouts, especially the floor, has inspired the shape of my frames, with the idea of exploding and distorting my own version of it, enlarged, onto the walls of the studio. With the help of a technician I spent a full day making bespoke frames in a range of different shapes echoing the Bouts tiles, from octagons in a range of scales (both regular to irregular in shape), to rectangles and squares.
Fast-forward to this week where I have been editing and selecting existing work to go on some of the smaller frames that I have made. This is an important process as it enables me to review and assess what patterns work against each other, along with having a legitimate connection with the Bouts painting. This selection process is also flagging up what new pieces need editing and re-making in order to fit the shapes that I have chosen to 'explode'.
As you can see in the photos above, I have been trying to find a configuration where the frames work together, and how they might look on the wall. Your help with the collaborative piece I have earmarked for the biggest frame that I have made… I would love all of your comments and your inspirational patterns from our participatory workshops coming up on the 7th of December, 14th and 21st to be a part of this. The sessions are 11am-1pm and 2-4pm!
Do come along if you want your work to be displayed on the walls of the project gallery, and help me make a masterpiece!
---
---
Week 4
Help me produce a masterpiece….
What, how and why….
Be supported and guided in how to transfer print photographs quickly and easily onto fabric. My aim is to produce a collaborative piece of textile using prints from peoples comments over my time working in the studio, so please do come in and feel free to write your opinion on 'what makes a masterpiece' as you will be able to see your words and thoughts on this joint piece of work….somewhere!
Working alongside the text it would be great to see what imagery inspires you…..are you potty for pots? Look in CoCA, York Art galleries Centre for Ceramic Art, there's plenty to chose from. Every frame tells a story, is carving your crush? What about paint….are you drawn to people or places, abstract or real? So have more ideas or suggestions? Why not bring your own camera and take shots that inspire you from around the Gallery, just take care, NO flash….we don't want any pictures to fade! And observe the no picture icon displayed in certain spaces …some works are on loan so we have to be extra careful. Perhaps you have photos already that you want to use? The Bouts picture has lots of inspiration, from landscape, still life, portraits to interiors.
Here are some of my recent ideas following Landscape and Portrait themes inspired by Bouts….
Have you any imagery based on these themes you would like to explore? You could choose your own image prior to the session if you have something in mind to print from and bring it along.
My aim is that everyone will get a print to take home along with the opportunity to learn how to print with acetate and window cleaner. There will be a range of surfaces to print on and images to choose from if you are low on ideas or just want to have a go. Why not take your print home and frame it? Could make a lovely present for a loved one at Christmas.
So like Dieric Bouts who had a team of artists supporting him in his Workshop producing art, please help me to produce a modern day masterpiece.
When:
Two sessions;
Session 1
11 am-1pm
Session 2
2pm-4 pm
Which days:
– 07/12/19
– 14/12/19
– 21/12/19
---
---
Week 3
Hello everyone!
Following on from last week, I would like to share with you all how I digitally create my own patterns. This technique is really simple and you don't have to be able to use photoshop or be too technical.
Step 1:
Choose your photo. I am going to be using one of the architectural pictures from the galleries interior that I shared with you last week.
(Just out of interest… does anybody know where this is in the Gallery? There's a challenge for you-can you find it?)
Copy and paste it into a document.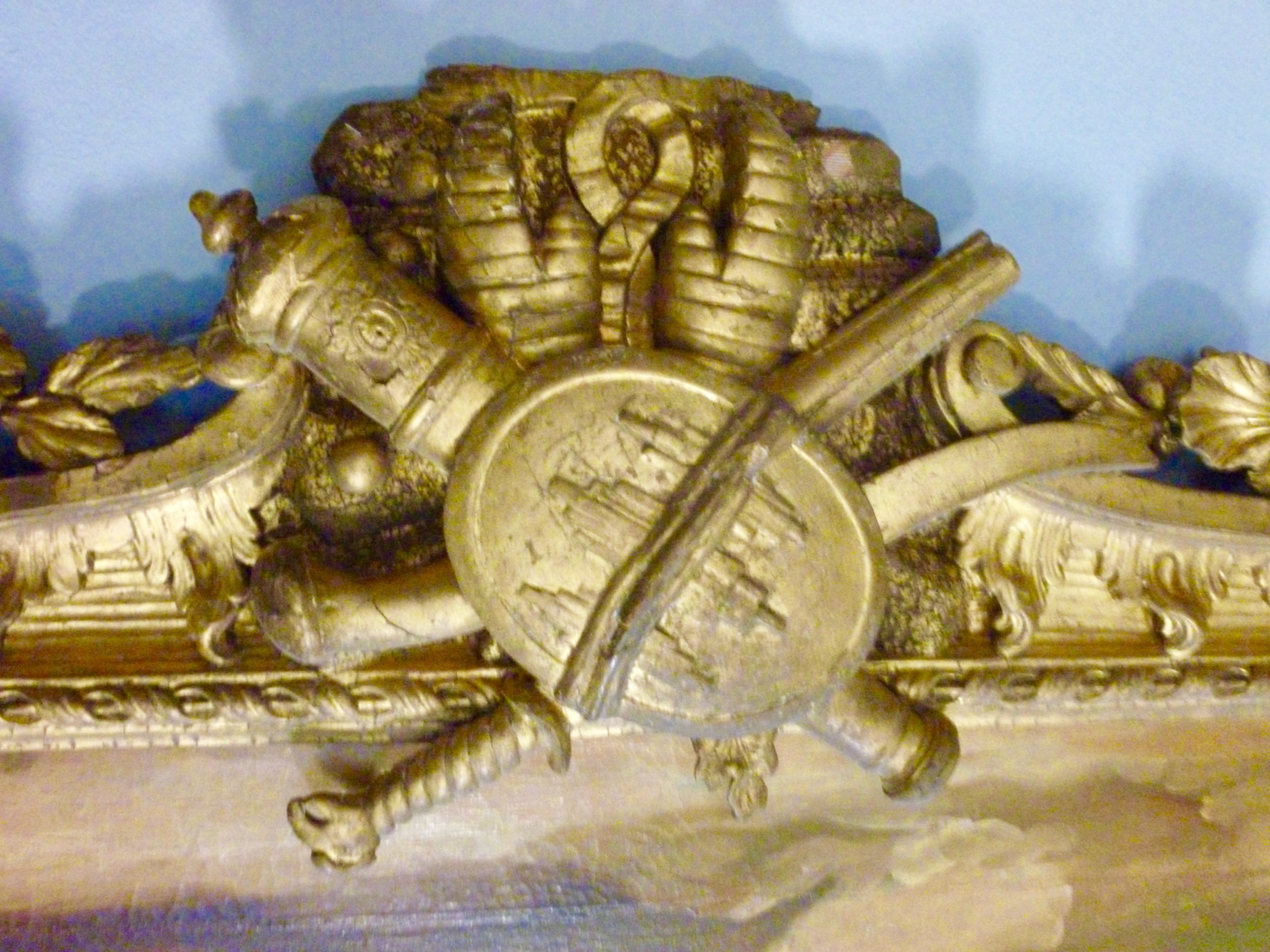 Step 2:
This step is optional. I like to edit the photos to enhance and change the colours. You can do this on a word document by clicking on the picture, then in the tool bar choose picture format and you will find the corrections icon. This will help you to change the brightness of the picture as I have done below. You can also change the colours by clicking on the colour icon next to the corrections icon. Another way to edit the photo can be in your computer photo library if you know how.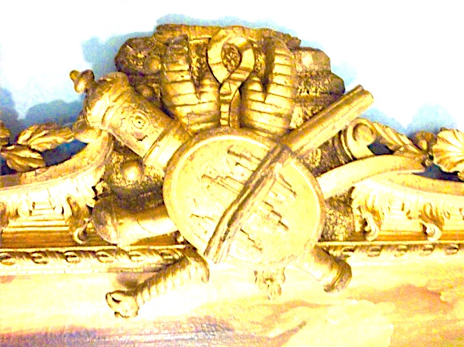 Step 3:
Copy and paste the edited image 4 times.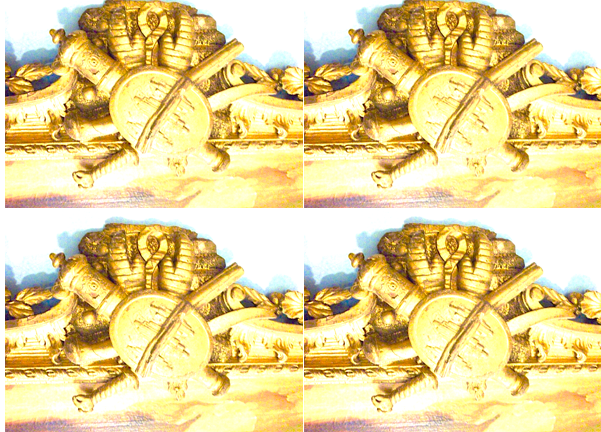 Step 4:
Again click on each individual picture and go onto the picture format button in the toolbar. There should be a rotate object icon that is a triangle and an arrow. Click on the rotate icon and choose either the flip vertical or horizontal button. Flipping results in a beautiful mirror image where the photograph reflects itself and begins to take on a more abstract pattern or design. You can see the result below.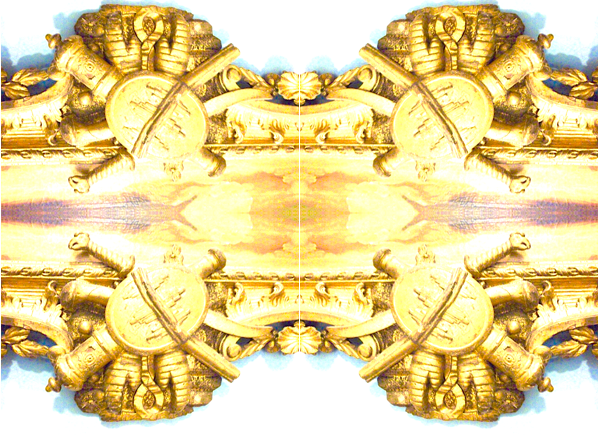 Your reflected image can be reproduced over a few pages to create a larger kaleidoscopic creation-to infinity…and beyond! When you are happy the magic of print, acetate and window cleaner can help you transfer your print onto fabric to create your own original patterns.
Above is an example the repeat pattern you can make by applying the same technique.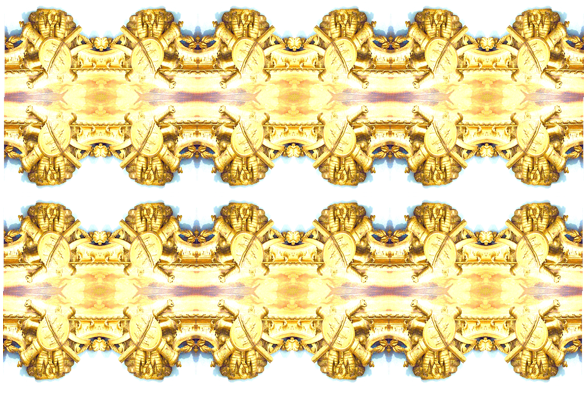 This is also the effect you can get when the unique pattern you have made is transferred onto fabric using acetate and window cleaner.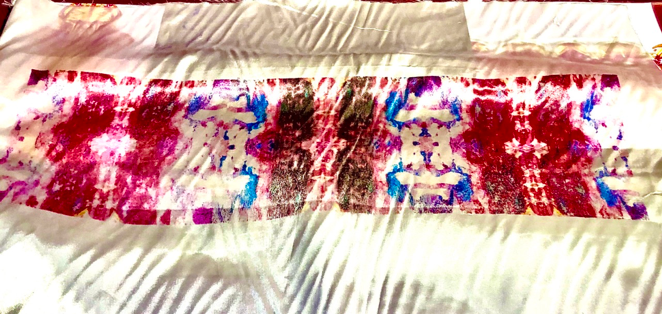 If you would like to find out more and get involved, why don't you join me on one of my December print workshops?
Like Dieric Bouts who had a team of artists supporting him in his Workshop producing art, I need help to produce a masterpiece too. I would like everyone to get involved and bring your own ideas, and camera if you have one, to help me make a huge print.
These participatory sessions are designed for all ages and abilities, so don't worry if you have no art experience.
When:
07/12/19
14/12/19
21/12/19
More details next week!
---
---
Week 2
Visitors who come into my studio at the gallery ask where my inspiration and content comes from when making my own patterns and textiles. As such I thought I would share with you all the visual origins of my current work.
When I first studied the piece of St Luke Drawing the Virgin and Child by the work shop of Dieric Bouts, Key aspects stood out to me. The rich interior of the painting, for example, the columns, tiled flooring and sumptuous fabrics. I came to the realisation that my surroundings in the gallery were not to dissimilar to the interior of the painting. I gave myself the task of going around the gallery and photographing elements that I felt related to the painting, such as the columns in the entrance of the gallery, or the arched roofing on the first floor, close ups of the carved wood of main staircase, intricate details (see pictures) to even the mosaic flooring outside of the Burton Gallery.
I decided to take this task further by photographing close up sections so I could really enhance and get a sense of the textures of the subjects that can also be seen in the painting itself, complimenting the shots of the interior gallery building.
The photos you see here have become the subject of my prints and patterns. I feel like this is a really interesting way to be able to put a sense of place into my work reflecting the gallery and incorporating primary source imagery (architecture) within my work.
---
---
Week 1
My name is Olivia and I am a third year York St John student and resident artist at York Art Gallery as part of the exhibition Making a Masterpiece: Bouts and Beyond. Welcome to my space, where I will be showcasing my practice and including a participatory element for you our visitors. There is an interactive blackboard asking 'What Makes a Masterpiece' and I would love your comments to help me with my work, so please come and generate ideas! To maintain the flexibility of the studio I have decided to display interchangeable frames to start off the project as a means to communicate my inspirational starting points to you all. This enables me time to formulae a body of work to permanently go up in the gallery. I'm very excited to see what ends up on the walls!  The diagram below shows the room set up as my initial idea for the work space. You can see me at work in my operational studio at York Art Gallery mainly Mondays and Fridays. Watch this space for announcements on print workshops for you all to get involved!
Olivia.