More Than Words: A New Exhibition of Work by Sara Radstone – by Hannah Savage, York Art Gallery Team Leader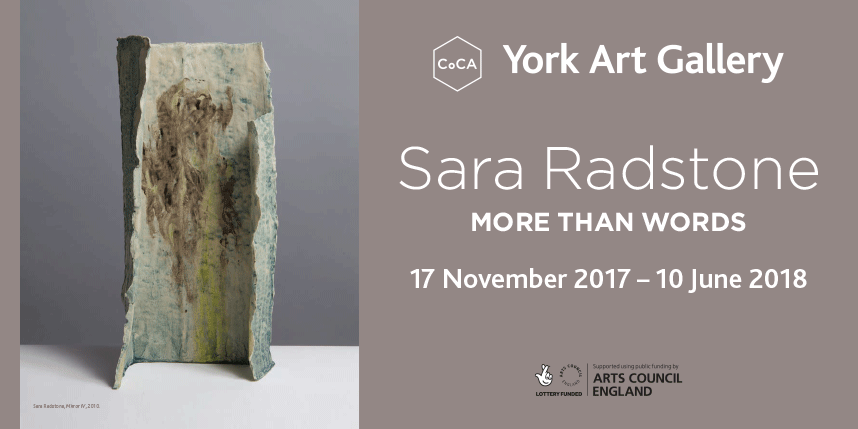 York Art Gallery Team Leader Hannah Savage has been providing visitors with short talks on some of the exhibitions, works and artists we have on display including in the Centre of Ceramic Art (CoCA). CoCA's latest exhibition, 'More Than Words', features the work of British artist Sara Radstone –  find out more about the artist and her work in Hannah's blog.
This is a major retrospective exhibition of Sara Radstone's work from the 1970s to 2017, including site specific work now on show at the Centre of Ceramic Art in York.
Sara was born in November 1955 in London. She was brought up near the Primavera Gallery, where the collector Henry Rothschild showed contemporary studio pottery. As a young child, she remembers "pressing her nose against the window and being entranced by what was inside."
She loved visiting the Tate Gallery and looking at Giacometti's artwork and seeing the Neolithic exhibits at the British Museum. From the age of 6, she knew that she wanted to be a potter and sculptor when she grew up. Between the ages of 9 and 11, she attended Saturday pottery classes at Chelsea Pottery and was taught by Ian Godfrey, learning how to throw, hand build and apply glazes.
Sara later went to Hereford College of Art and Design, where she completed her Foundation Course taught by James Campbell. Afterwards, she started her degree at Camberwell School of Arts and Crafts where she was taught by well–known ceramicists: Ian Auld, Head of Department, who Sara described as a "friendly uncle", created chunky slab built ware; American ceramicist, Scott Chamberlain, had a "great influence on students"; Colin Pearson, was influential in developing decorative and expressive ideas; Ewan Henderson, encouraged Sara in the idea of the vessel; and visiting lecturer, Gillian Lowndes, had a "gentle, but persuasive influence, subtly nudging you to a more productive direction without you even noticing!"
Sara graduated from Camberwell in 1979. At her degree show she met Anthony Shaw. He bought a piece of her work and he has followed her progress and supported ever since. Sara describes the people that she graduated with in 1979, including Henry Pimm and Angus Suttie, as a "year that challenged people's views about clay and the potential of ceramics." She is also friendly with potter Julian Stair and has been inspired by the work of Eva Hesse since the 1980s.
Anthony Shaw offered Sara a small exhibition space after her degree show, in the window of his Couturier Premises. She moved to Studio 401 ½ Workshops, having received a grant from the Crafts Council. Sir Robert and Lady Lisa Sainsbury saw her work after visiting Anthony Shaw and bought her a kiln and provided her with financial support for a year! Tatjana Marsden gave Sara a solo show at the V&A Shop and she is now represented by the Marsden Woo Gallery in London.
Sara's early works in the 1970s and 1980s were about reinterpreting early man's vessels. She is fascinated by the thumbprints and marks that can still be seen on them. Her works are rough, with earthy colours. The walls of the pots are very thin, blistered and squashed. Apparently, if you tap them, the walls are so thin, the sound is metallic. During the 1980s, Sara began to close the pots up, so there was just a small hole visible, making a statement about the hidden inner volume and space of a vessel.
By the 1990s, she became interested in vessels being hollow objects. Pieces became flattened, or stretched, and appeared broken, or ripped open. Her work became more abstract. Sara says "If the work looks like something, it has failed." Her work started to become austere, limited to earth rusts and greys, linking her work to natural stone or wood and taking inspiration from the Isle of Lewis. Markings and graffiti by human interaction are also an inspiration to her. She was affected by Gaston Bachelard, the French philosopher, who once said, "There is always more in a closed than open box."
Memory, history, landscape, humanity, loss and absence are all themes in her work. She works in a series and often will re-visit previous ideas. Gradually, she began to produce work that leans against a wall and wall hanging pieces. 'Mirror', a series that she created in 2010, explores the idea of creating a new piece without adding anything else. They were 3 small left over shards from an earlier work, that she thought looked like a mirror when they were put together resembling a triptych painting.
Her mother's death was sudden and so Sara didn't produce any work for a while. When she did return to work, the pieces she made became a tribute to her mother, including 'Corpus' 2001-2002, made up of 44 books taken from moulds of actual books from her mother's apartment, as she was an avid reader and book dealer. The books are shown in various stages of decomposition, inscribed with words and abstract marks. Like buildings, or vessels, book covers hide their inner contents and interior life and thoughts. Sara likes the viewer to express their gut feeling about her work.
Another work that Sara created after her mother's death, was 'Shroud' 2001-2002, reflecting bereavement and memorial. A thin, skeletal, white, elongated sculpture that was wall mounted and trailed across the floor was bought by the Crafts Council and lost in the Momart warehouse fire in May 2004, where it was being stored. She has since made 'Shroud II' and 'Shroud III' 2017, as a response to the first piece symbolically rising from the ashes of the cremation.
Surface is one of the most important elements of Sara's work. Sara deliberately does not tidy the edges of her works and likes them looking rough with the imprint of the maker visible. All her work is oxidised stoneware. "A thin dry membrane can be seen like a skin on which human scars do not fade," she says. In some of her works she sees how far she pare down the outer skin, before "exposing the inner leaves of clay." Recently, she has been dabbing red glaze on the outer skin of the sculpture, to expose the details of the surface, in some cases, suggesting blood; past memories, pain in life and death, as in 'Shroud III'.
Sara' s titles can vary. Artworks can emerge from a single word or phrase, but Sara particularly loves words that have more than one meaning. If an artwork is 'Untitled', it is simply because Sara has not been able to find a suitable word.
Some of the works on display are for sale. The price list is available in the CoCA Shop.