Female Catholic Recusants at York Prison – by Megan Kilvington, York Castle Museum Volunteer
York Castle Museum volunteer Megan Kilvington is part of a research team investigating different rebel groups that were held in York Prison. Megan has been looking into female Catholic recusants – find out more in this blog entry.
During the Elizabethan period, the Statute of Praemunire was brought back into focus; a law which prohibited individuals from asserting their own beliefs against the religion of the Monarch. In 1581, Catholics in England were frequently put to death, and most executions were Catholic priests. After priests the second most feared rebel group were female recusants. There was strict surveillance within the city, monitoring movements and keeping track of church attendance.
Once a month, commissioners conducted a survey of all Catholic prisoners within the prison which outlined females to be manipulators and religious converters as well as the largest group to miss church services. Their imprisonments were often stricter than men, excluding the treatment of priests.
An example of this was the conviction of Bridget Maskew and Ann Tesse in 1599. Both women were convicted of High Treason – they attempted to convert a Church of England Minister and were sentenced to death.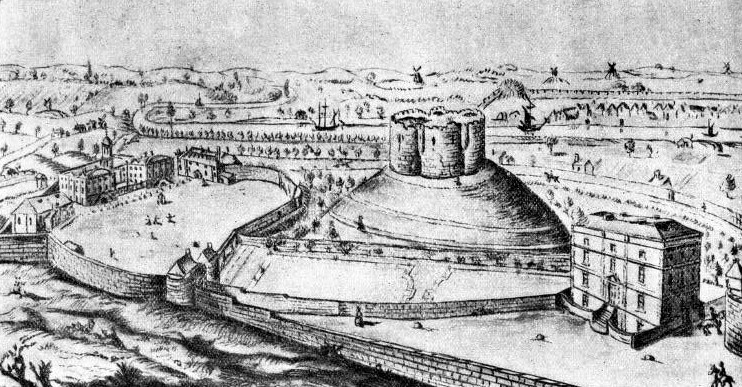 Above: An 18th century sketch of York Castle. Catholic records of the 16th and 17th century note the Catholic wing to be in the building facing Fishergate. The sketch was made by a Mr Waud in 1820 and was printed in Thomas Cooper's "History of York Castle" in 1911.
Records show that Catholic women harboured the most priests. In 1593, Ann Thwing was imprisoned for harbouring a priest and was sentenced along with another woman, a Mrs Stapleton. Both women were in York Castle until 1600. Mrs Stapleton was pardoned, Ann's fate is unknown. In 1599, Eleanore Hunt received a death sentence for harbouring Christopher Wharton, a priest who was also sentenced to death at York Castle.
In 1575, a group of York women – 'Mrs Dorothy Vavasour', Frances Hall, Janet Geldad and Isabel Porter – became the first women to stand in front of the High Commission and be charged with 'causes ecclesiastical'. This was the refusal to attend church service.
The following year, the Lord President of Huntingdon, Henry Hastings, was instructed by the council to provide further details into church attendance. His list had 33 names, 23 being women, and included Vavasour, Geldad, Hall and Porter. Also on the list was Margaret Clitherow.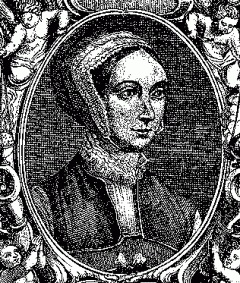 Above: Margaret Clitherow, the "Pearl of York"
Some records credit Mrs Vavasour to be the woman who originally converted Margaret Clitherow to Catholicism in 1574. Frances Hall and Isabel Porter were imprisoned at Lord Mayor's Kidcote Prison. Those who were imprisoned within York Castle prison were considered the most dangerous and influential.
Janet Geldad's husband had been part of the Church of England. She is credited as an early Catholic recusant and succeeded in converting her husband to Catholicism. Geldad was imprisoned in York Castle on 21 August 1577 along with Margaret Clitherow, Ann Weddel, Anne Cooke and Margaret Tailor.
The husbands of these women were also arrested, yet they were released after only three days in prison. The women, with the exception of Geldad, shared a prison chamber. Geldad's success in converting her husband implies a reason for this; to suppress the chances of her influencing others.
On 27 January 1578, the husbands of the recusants appealed for the release of their wives on religious grounds; to be able to attend Easter services. On 9 February, their temporary release was granted. Anne Cooke, for reasons unknown, was the only one of the group to not get release. The females were ordered to return to the prison after Low Sunday, 8 April, and were not allowed to communicate with anyone considered 'disobedient' – other Catholics.
The prison then extend their release and allowed them to be free until 26 June. Yet the conditions were stricter – they were housebound except for church services. Each time a service was missed their families were forced to pay 2 shillings.
Margaret Clitherow was sentenced to death on 25 March 1586 and Janet Geldad died while imprisoned in the 1580s. Dorothy Vavasour died on 26 October 1587 outside York Castle. The fates of the other females remain unknown.
You can read more about Margaret Clitherow on the History of York website here, or to find out how you can volunteer to be a part of our curatorial research teams at York Castle Museum here.