'Deck the Halls with Boughs of Holly!' – Yorkshire Christmas Greenery
Bringing greenery indoors is one of our oldest seasonal traditions. In Europe before Christianity, people decorated their homes with greenery for festivals. We know this because important early bishops gathered to discuss whether Christians should be allowed to do this too. Some thought it was too pagan, but Pope Gregory the Great was in support. In 596AD, he sent a group of missionaries to Britain to convert people to Christianity. Perhaps he thought supporting local customs would help people to feel good about the new faith.   
As the festival of Christmas became more popular, greenery became associated with the festive season. In the middle ages, people decorated their churches with holly, ivy, broom and bay, plants that are still green in midwinter. Although decorating for Christmas was banned in 1647 – when Oliver Cromwell suppressed the celebratory side of Christmas – as soon as the ban was lifted in 1660 people were happy to start decorating again.  
Yule logs are first recorded in the 17th century. The tradition began in Germany, and soon became popular in England. The yule log – also called a 'Yule-Clog' or 'Christmas block' – was a large slice of branch or trunk. Tied up with ribbons, it was pulled into the house by the men of the household, and ridden by the youngest child. Once it was lit, it was considered very unlucky to let it go out, and a piece of the log was usually saved to light the Yule log the following year.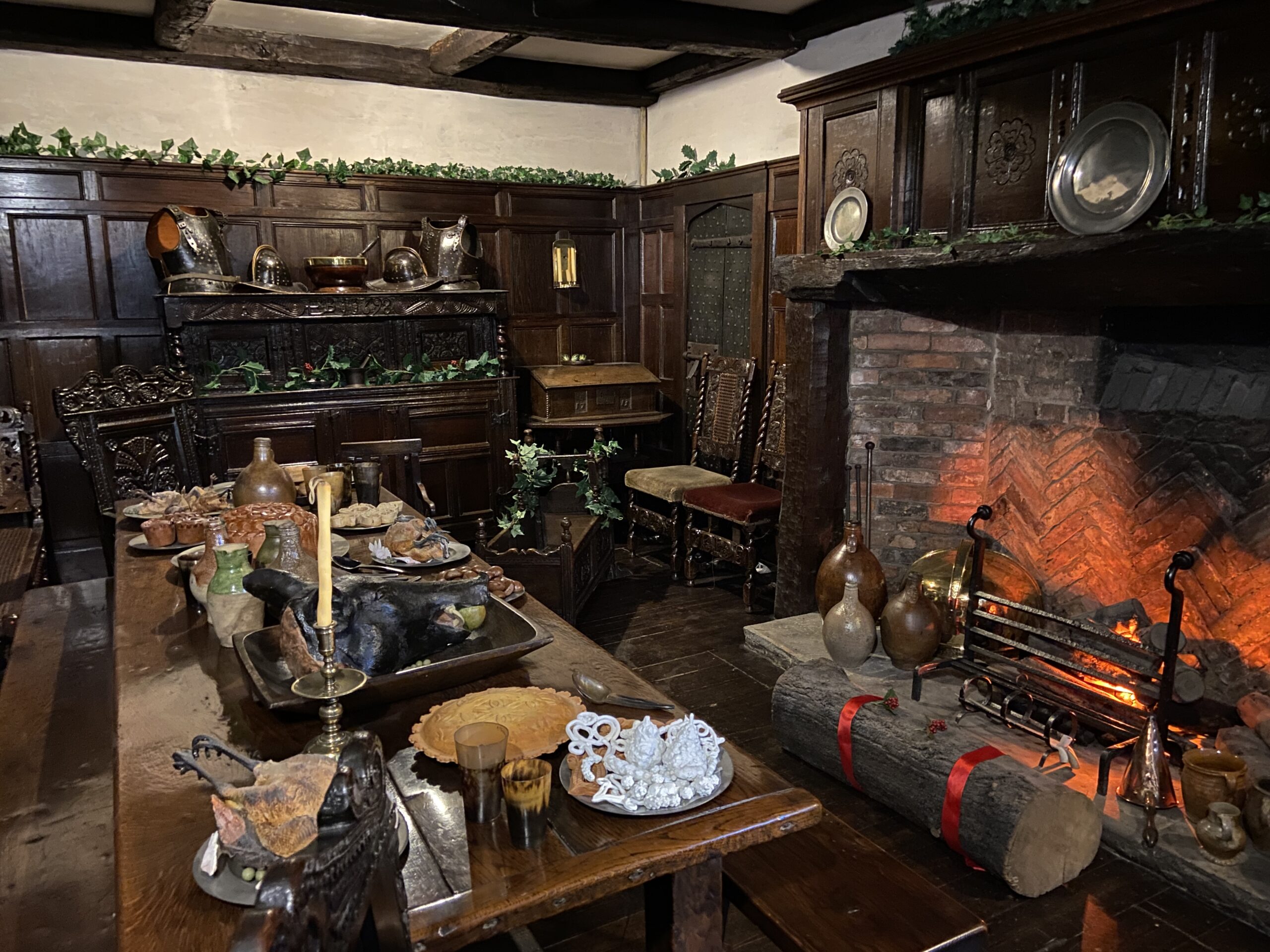 In the 18th century, kissing boughs became popular. These were made of greenery, often on a wire frame, and usually included apples and candles as well as a bunch of mistletoe. One tradition states that young men were allowed to kiss young women under the kissing bough – something they never would have been allowed to do usually – but each young woman had to take a berry, and when there were no berries left there could be no more kisses.  
Kissing boughs were similar to Advent Crowns, which some people still make today. They have four candles, and one is lit on each of the four Sundays of Advent (the period leading up to Christmas).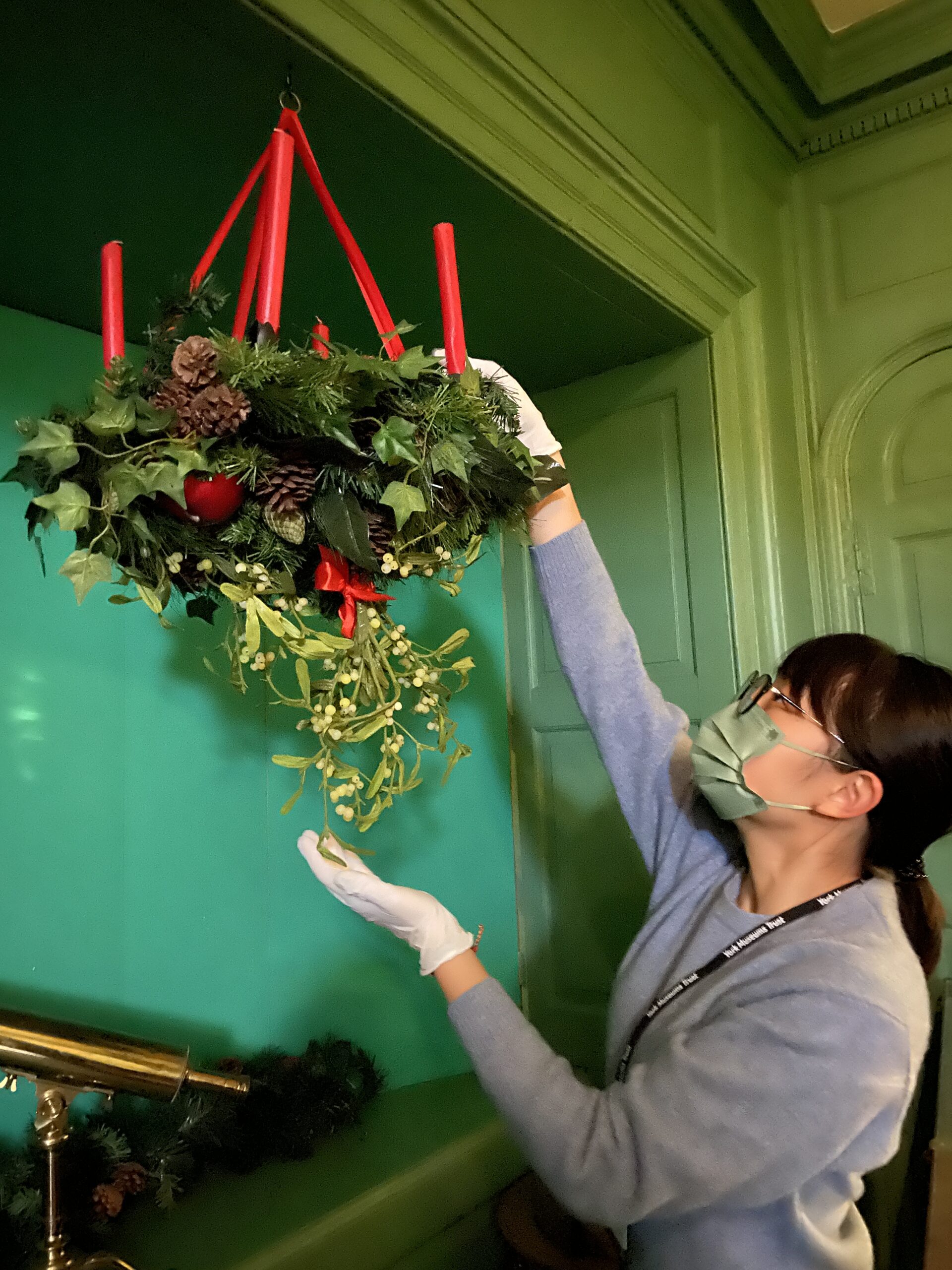 In the 19th century, Christmas enjoyed an enormous resurgence of popularity. People looked to the past for inspiration, and filled their homes, churches and public buildings with evergreen decorations.  
Like now, magazines in the Victorian period contained articles with advice and inspiration for designing and making Christmas decorations. Recommendations included gluing greenery to cardboard, making monograms and mottos out of plants and painted paper, and even building a wooden-framed grotto for the parlour and covering it all over with branches. They loved a bit of glitter, and used mica (a natural mineral) or even crushed glass.  
Nowadays, New Year's Day marks the end of the Christmas season, but in the past the festive season lasted from Christmas Day until Twelfth Night, which was either the 5th or 6th of January (the date depends on whether you start counting on Christmas Day or Boxing Day; each region had its preference). In parts of Yorkshire, after the Twelve Days were up, you had to take the greenery down or risk inviting bad luck. But this wasn't the case everywhere. In the North Riding of Yorkshire, holly brought into churches and houses was left until Good Friday (Easter – late March or early April). Elsewhere, some houses kept a branch of mistletoe in the kitchen all year round, as it was believed to guard against house fires, only refreshing it at Christmas.  
Once you've taken the decorations down, what do you do with them? Again, different places had different traditions. In some parts of Yorkshire they had to be taken outside and burned, but in other areas it was bad luck to burn Christmas greenery, so it had to be thrown away instead. As for our Christmas trees here at York Castle Museum, once Christmas is over they'll be turned into chips and used for environmentally friendly paths in school gardens.  
Blog by Dr M Faye Prior