Ceramic Art York 2016 – by Fiona Green, Collections Facilitator for Art
Ceramic Art York 2016
A Review by York Art Gallery's Collections Facilitator for Art, Fiona Green.
From Friday 9th – Sunday 11th September 2016, Ceramic Art York returned to York Museums Trust for its second year. Run by the Craft Potters Association, it is a ceramic art selling fair showcasing some of the best makers' work and supported by a range of talks and demonstrations.
The fair, alongside access to the CoCA collections, enabled visitors the opportunity to learn more about ceramics. Every time I entered the tent over the weekend there seemed to be a buzz of makers and visitors discussing all things clay.
Collector Anthony Shaw (pictured below), whose collection of ceramics and 2D works are shown in CoCA, was talking to visitors from 12-2pm every day and I never saw him have a moment to himself! He also provided some of his volunteers a unique handling session with himself before the gallery opened on both Saturday and Sunday which was very enjoyable and informative.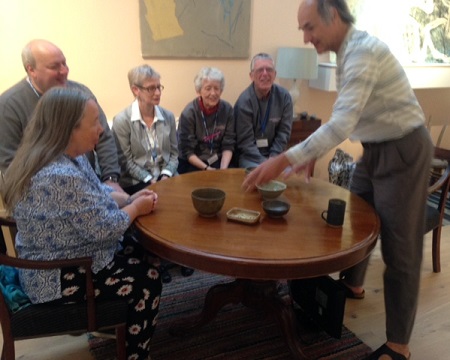 There were clay activities running in the gallery's studio on the Saturday and it was a lovely to see a wide range of visitors taking part. From families moulding clay animals and learning about textures on clay surfaces, to adults spending hours at a time concentrating on their own ceramic masterpiece inspired by the work of the makers they had just seen.
Our very own assistant curator of archaeology Adam Parker provided a wonderful talk on 'Digging up Pots: An Introduction to the Archaeology of Ceramics in Yorkshire' at the Yorkshire Museum, providing insight into basic technologies and types of ceramics found in this area showing us the great significance of the social importance of pots.
I particularly found Jacob van der Beugel in conversation with Michael White especially interesting having recently visited Chatsworth House and seen his installation in the North Sketch Gallery.

All the makers on display really stood out as strong individual work and it was good to talk to the artists to get a better understanding of the work they were producing and why.
Artist James Oughtibridge's curved sections of clay are constructed with numerous planes and perspectives, inviting the viewer to peer inside to a world of contorted shadows (image below).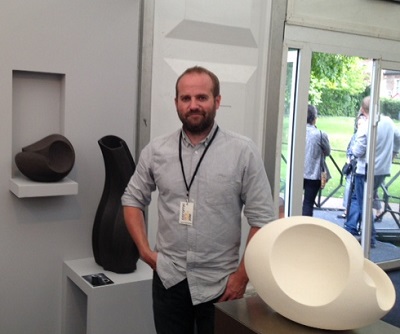 Jenny Morten's ceramic forms are hand built by pinching and coiling or wheel thrown and altered. She makes individual sculptural pieces – mostly vessels, non-functional bowls and hollow forms (image below).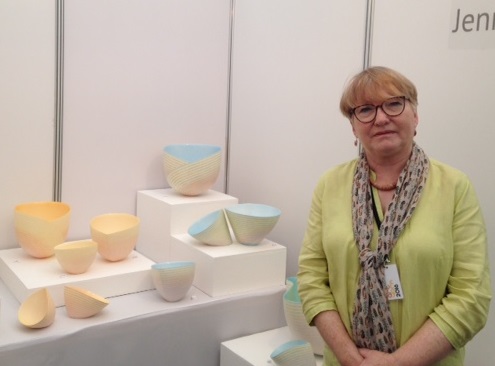 Rebecca Appleby's ceramic sculptures explore a personal investigation of the unseen, overlooked or abandoned fabric of contemporary urban structure and decay (image below). Rebecca has a piece of her work currently on show in CoCA.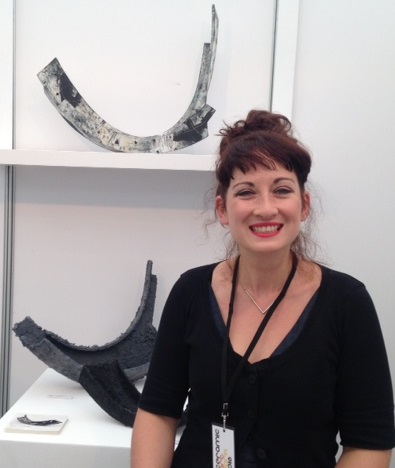 After such a wonderful clay weekend, I was swept up in collecting fever and even bought my own little pot to start my own collection!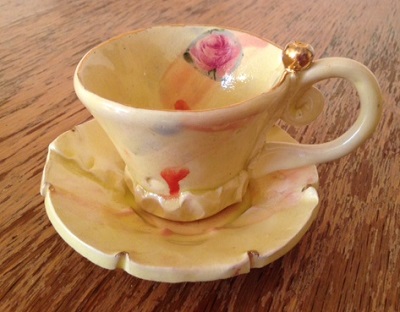 We look forward to Ceramic Art York's return next year!