YMT Card

Covid-19
We hope you are staying safe and well in these challenging times?
In line with the government covid-19 recommendations, it is was with great sadness that we had to close the doors on the 17th March to all our museums.
As a charity who survives through income from our visitors, closing our doors for an indefinite period will have a very significant negative impact on our sustainability. 70% of our income comes from ticket and membership sales and as a member, your ongoing support is crucial for our survival.
We hope the following document will help answer any queries that you have in regards to your membership – download it here.
Join Us Today
Get a YMT Card today and visit three wonderful York attractions as many times as you like for a whole year.
With just one visit to each site, you can save up to £8 compared to buying individual day tickets – and the more you visit the more you'll save!
It's the great value way to enjoy some of the best attractions York has to offer.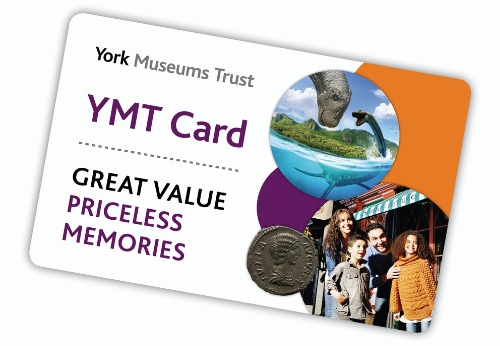 With a YMT Card, you can…
• Enjoy unlimited free entry to York Castle Museum, the Yorkshire Museum & Gardens and York Art Gallery for a whole year from the date of purchase
• Treat yourself with 10% off most purchases in our gift shops
• Take advantage of priority booking with advance digital copies of our events programmes
• Win exciting prizes in our members-only competitions
• Stay up to date with our regular e-newsletters, featuring exclusive behind-the-scenes content
How much are YMT Cards?
Standard Membership (without children):
Adult:
Annual payment: £25
Annual direct debit: £20
Student/ Young Person*
Annual payment: £15
Annual direct debit: £12
Universal Credit**
Annual payment: £15
Annual direct debit: £12
York Resident***
Annual payment: £15
Annual direct debit: £12
York Resident with Universal Credit****
Free
Plus+ Memberships (with children):
Adult:
Annual one off payment: £30
Annual direct debit: £25
Student/ Young Person*:
Annual one off payment: £20
Annual direct debit: £17
York Resident***:
Annual one off payment: £20
Annual direct debit: £17
* For those aged 17-24 or in possession of a valid student card, such as an NUS card.
** Evidence required, such as an awarding letter or recent account statement. Digital copies accepted.
*** York residents must provide evidence demonstrating that they live within the City of York Council local authority boundary, such as a current Council Tax statement, recent utility bill or driving licence. York Residents will only require a Plus+ membership if bringing children who are non York residents.
*****Evidence of both York residency and receipt of Universal Credit is required.

YMT Cards are not eligible for Group Bookings. Please ask at admissions for further details.
If you or any of your party have an additional need that you feel may affect your visit, please talk to our Visitor Experience team when you arrive as you may be eligible for a discounted entry rate.
How can I buy a YMT Card?
YMT Cards are available to purchase from the admission desks at York Castle Museum, the Yorkshire Museum and York Art Gallery. You can also purchase YMT Cards over the phone by calling us on 01904 650345 (normal office hours only) and they will be posted out to you, free of charge.
If you would like to upgrade a day ticket to a YMT Card within 48 hours of purchase, please take your receipt to one of our admissions points or have it to hand when you call.
If you would like to enquire about becoming a YMT Card holder, please email us at [email protected] or call 07730642908.
Can I buy a YMT Card as a gift?
Yes, YMT Cards make excellent gifts!
To purchase a YMT Card on behalf of someone else, visit any one of our admission desks or give us a call. You'll need to supply us with the recipient's full name, address, email and telephone number and let us know the date on which you would like their membership to start. We can send gift YMT Cards to any address and each gift comes with a free presentation envelope.
Where does my money go?
York Museums Trust is a registered charity that looks after some of the city's most treasured artistic and historic collections, buildings and gardens. By joining us today, you'll be helping us to keep on bringing world-class art and culture to York though exciting events and inspiring exhibitions and to further develop our nationally and internationally-significant collections for generations to come.
If you have been inspired by a visit to one of our sites and wish to do more to support York Museums Trust, we would be most grateful. Find out how gifts and donations of all sizes support our valuable work.
Additional Information
YMT Card: Terms and Conditions
Keep in Touch
Enter your email address to sign up to the York Museums Trust newsletter.